Custom Home Construction Features
Attention to Detail - Nothing is Overlooked
Exceptional quality and significant consideration is applied to every aspect of a Gladebrook home. Every element is given an in-depth thorough review before being installed. Impeccable craftsmanship is apparent in all features.
When you purchase a Gladebrook home, you can be confident that all entities have been carefully selected and beautifully constructed.
Note for Custom Builds
We will work closely with you to outline every detail of your custom home project.
---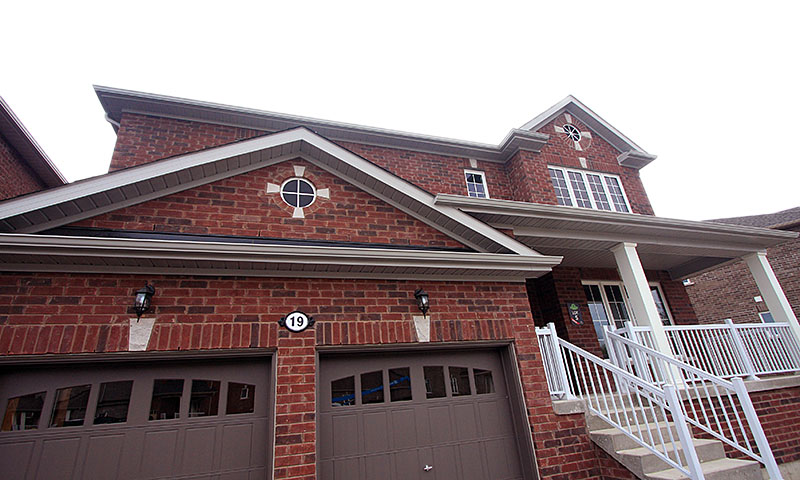 Quality self-sealing shingles in specially blended colors with manufactures limited lifetime warranty
Pre-finished, virtually maintenance free aluminum soffits, fascia and eavestroughing, rain water downspouts and vinyl siding as per elevation
Solider coursing, brick arches, keystones and other masonry detailing in brick and pre-cast sills as per elevation
Metal insulated, non-warp entry doors and weather stripping with glazed panel in front door and/or sidelight as per elevation
Energy efficient low-e argon white vinyl casement windows with super spacer technology on main and second floor. Basement windows to be energy efficient low-e argon white vinyl sliders. Screens provided on all operational windows.
Energy efficient low-e argon vinyl sliding patio door with screen where applicable
"Manor House" style raised clad wood sectional roll-up garage doors with window light
Lot sodded and graded to the requirements of the municipality. (Stone in place of sod between the homes in some areas)
Two exterior frost-free water taps, one in the garage and one at the side near the rear of the house
Satin nickel colored front door grip set, black front coach lamps as per elevation (Locations of the coach lamps may vary with site conditions)
Paved driveway.
All doors, windows and exterior openings fully caulked and installed with vapor barrier
3/8" plywood roof sheathing
Safety door closer on door from garage to interior (where applicable)
Garage ceiling insulated with "Icynene" spray foam (only where there is a room above habitable living space)
Decorative house numbers
Poured concrete basement walls with damp-proofing and foundation collector drains, where applicable. Drainage layer provided on exterior of basement walls to enhance overall water resistance
Where a deck is required at rear patio door due to grade conditions, Builder supplies standard 5x3' standard deck
Elevations feature a brick, vinyl exterior, as well as self-sealing asphalt shingles and exterior paint colours predetermined by the architectural control specifications as per plan
Porches are a gracious feature on some homes. Where provided, porches are poured concrete. Pillars to be decorative painted fibre glass or brick as per model
Wood and steel beam construction in accordance with architectural specifications
9ft ceilings are standard on main floor self-sealing shingles in specially blended colors with manufactures twenty-five (25) year warranty
---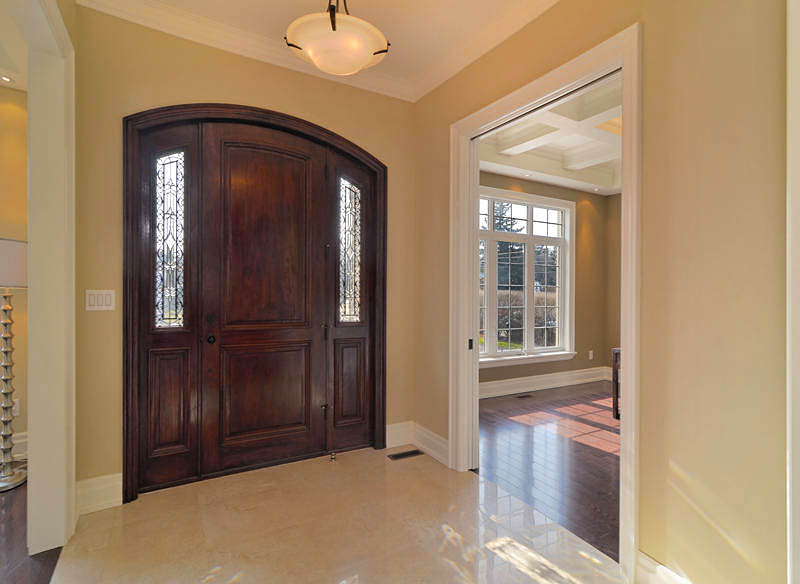 Ceramic tile flooring in front vestibule, kitchen, laundry room and all bathrooms (from Vendor's standard samples)
35 oz. broadloom with underpad installed wall to wall and in all designated areas as per plan (from Vendor's standard samples)
Oak stairs, with 3" handrails and 1 3/4" x 1 3/4" oak pickets from first to second floor. Oak nosing around staircase opening on first and second floors (if applicable as per plans)
Spray textured ceilings throughout main and second floors except for kitchen, bathrooms and laundry room ceilings, which are to have smooth finish
Interior finished walls painted with one prime coat and one finish coat of an off-white colour throughout
Direct vented gas fireplace as per plan
Decorative/architectural columns as per plan
Coffered ceilings as per plan
All subfloors to be sanded and fastened with screws
High efficiency forced air heating system with ducting sized for future central air conditioning system
Separate switches for all exhaust fans to reduce heat loss
White trim and doors
R60 insulation in attic, R22 on exterior habitable walls, R12 wrap insulation on basement walls down to 6" from slab
Nine foot (9') ceilings on main floor permitting taller windows. Eight foot (8') ceilings on second floor (except in areas with bulkheads and dropped ceilings)
Vaulted ceiling as per plans and elevations
Decorative smooth ornamental columns where shown on plan
All drywall applied with screws (using a minimum number of nails)
Satin nickel coloured (or equivalent) lever interior door handles and hinges
PEX pipe and ABS drains
Taps and drain hook-up for automatic washer connection in laundry area
---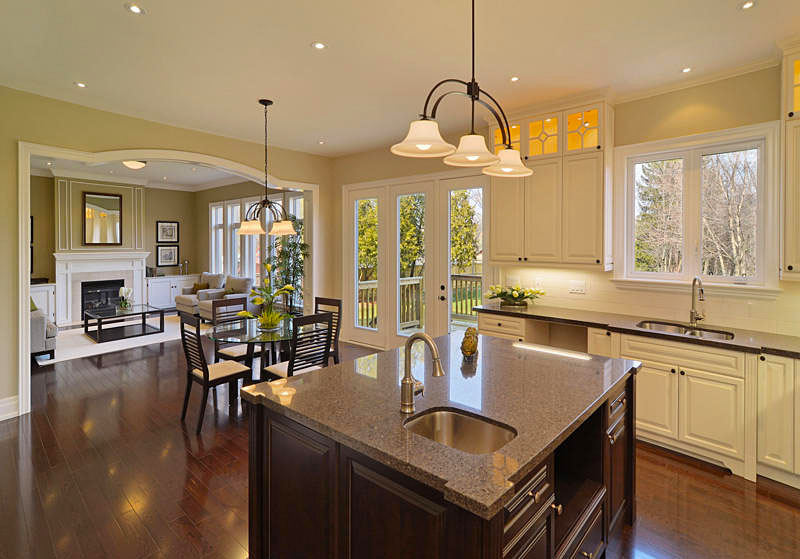 Quality cabinets from Vendor's standard samples (or equivalent) with post-formed arborite laminate countertops and design features such as microwave shelves, islands and pantries, as per plans
Aborite post formed rolled and/or straight edge countertops from choice of Vendor's standard samples
Heavy duty receptacle for stove
Quality stainless steel, double compartment sink with single lever faucet with pull-out spout
Two (2) speed exhaust hood fan over stove area with 6" vent to outside in Stainless Steel finish
Dishwasher space provided in kitchen cabinets with rough-in plumbing and electrical provided
Kitchen faucet fitted with shut off valve
Dedicated electrical outlet for refrigerator
Electrical outlets at counter level for small appliances
Colour coordinated kick-plates to compliment cabinets
---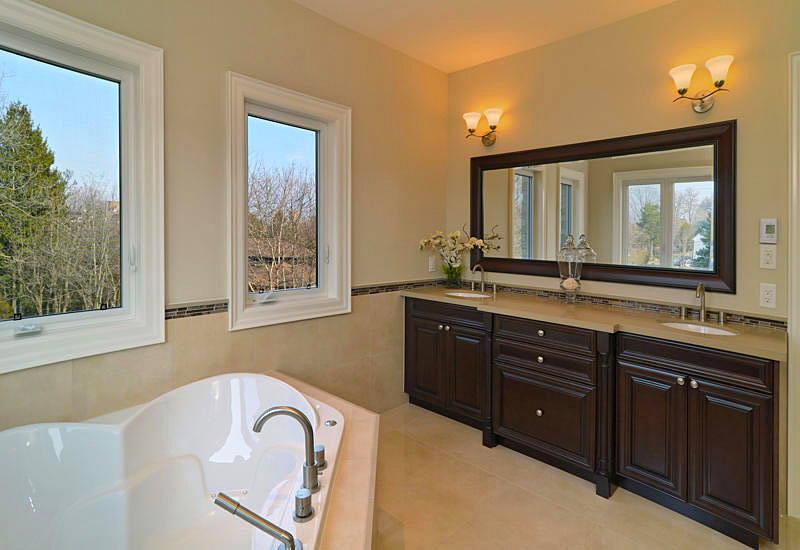 Arborite post formed rolled and/or straight edge countertops in bathroom vanities from choice of Vendor's standard samples
Quality vanity cabinets selected from Vendor's standard samples
Colour coordinated kick plates to compliment cabinets
White toilet and sink in powder room, as per plan
White plumbing fixtures
Mirror in all bathrooms
Chrome finish single lever taps with pop-up drains in all vanities
Chrome finish faucets with pressure balanced scald control in all showers and bathtubs with showers
Ceramic wall tiles installed in tub and shower enclosures.
Shower stall finished in ceramic tile
Exhaust fan in all bathrooms
Energy efficient, water saving shower heads, water saving toilet tanks and low flow aerators on all faucets
All vanity sinks fitted with shut off valves
Privacy locks on all bathrooms doors
Electrical outlet for small appliance's beside vanity in all bathrooms
---
ELECTRICAL
White decora style switches and plugs in all finished areas as per builders specifications
Rough-in central vacuum system dropped to basement with blank cover plates
Three (3) exterior waterproof electrical outlets, one at rear of home, one by the front door and one at the front of the home for holiday lighting, includes interior switch
Circuit breaker type panel with 100 amp service
Electrical copper wiring in accordance with Ontario Hydro standards
Heavy duty wiring to stove and dryer locations
Dining room with capped electrical box. Living room with a switch activated wall plug. Basement unfinished area light fixtures to be operated by single switch at stairs
Electrical outlets in garage – one in wall, one for future central vacuum and one (or 2 if there are 2 garage doors) in ceiling for future garage door openers
Electrical outlet on kitchen island/peninsula
Electronic smoke detectors and carbon monoxide detector as per Ontario Building Code
Electrical panel
Front door chimes
Vendor's standard light fixtures installed in all rooms except living room
---
HEATING
Energy Star qualified low-e argon, white vinyl casement or single hung windows on main and second floor installed with expandable foam at perimeter and caulked at exterior
High efficiency furnace with electric ignition and vented to the exterior (location may not be exactly as shown on plans)
The purchaser acknowledges that the high efficiency gas hot water system is a lease and agrees to execute a lease agreement before closing
Insulation – to meet or exceed the Ontario Builders Code
Energy efficient, full height (to within 6" of floor) basement insulation to R12
Energy efficient HRV (Heat Recovery Ventilator) installed, simply ducted
Ducting sized to accommodate for future central air conditioning
All ducts to be professionally cleaned before closing
---
PAINTING
Interior doors and trim to be painted white in finished areas only (from Vendor sample)
---
FLOORING
All ceramic tiles to be laid on scratch coat
5/8" tongue and groove sub-flooring throughout to be nailed and screwed down
---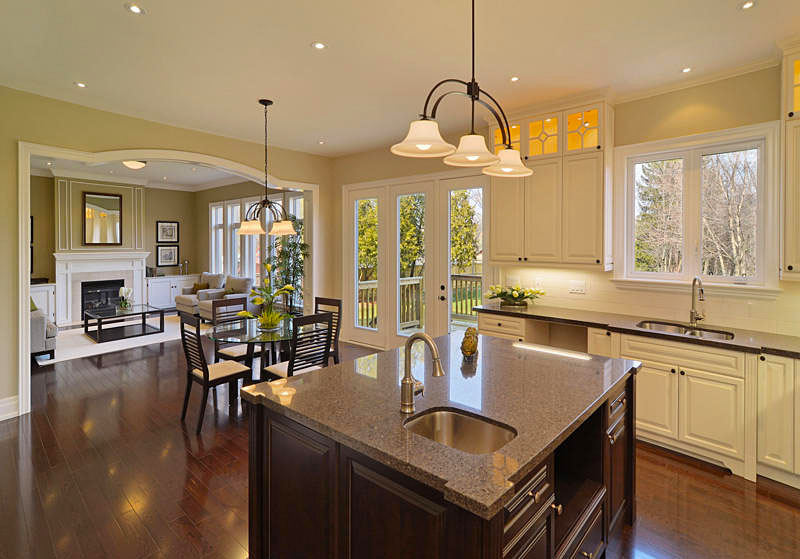 FAMILY ROOM
Direct vent gas fireplace in great room in one sided style (as per plan) complete with glass front, gas log and electric ignition (where applicable)
---
LAUNDRY ROOM
Single laundry tub
Hot and cold faucets for automatic washer
Dryer vented to exterior
Heavy duty electrical outlet for dryer and electrical outlet for washer
Location of laundry varies per plan
---
SECURITY
Entry resistant framing, hinges and striker plates, reinforced with extra-long screws on all exterior doors and additional blocking on all exterior door jams
Poured concrete basement walls with exterior walls wrapped with air gap drainage membrane or equivalent (excluding garage)
Poured concrete front porch and garage floors
Architecturally predetermined siting's as per Vendor
Poured concrete basement floors
---
WARRANTY
Gladebrook Homes warranty backed by Tarion Warrant Corporation's "Excellent Service Rating" includes: the home is free from defects in workmanship and materials for one (1) year and the home is free of defects in workmanship and materials on electrical, plumbing, heating delivery and distribution systems, exterior cladding, caulking, windows, doors and the building envelope and the basement remains free from water penetration for two (2) years.
The home is warranted against major structural defects for seven (7) years.
The home is subject to conditions of the Purchase and Sale Agreement.
---
ROUGH-INS
Pre-wired cable TV outlets – great room and master bedroom as per plan
Rough-in central vacuum
Rough-in for future central air conditioning
Pre-wired telephone outlets in kitchen and master bedroom
Rough-in for dishwasher, connection includes provisions for electrical and plumbing, as per plan
---
STRUCTURE
2"X6" construction on exterior walls. Insulated with R-22 Fibre Glass Insulation
Roof constructed with engineer certified trusses
Roof sheeting with 3/8" plywood
All subfloors to be nailed, sanded and fastened with screws to joists
9' ceiling on main floor and 8' ceilings on second floor
We are currently not accepting any new projects.